An interview with Rob Tucker, owner of Jim & Rob


By Sarah Howery Hart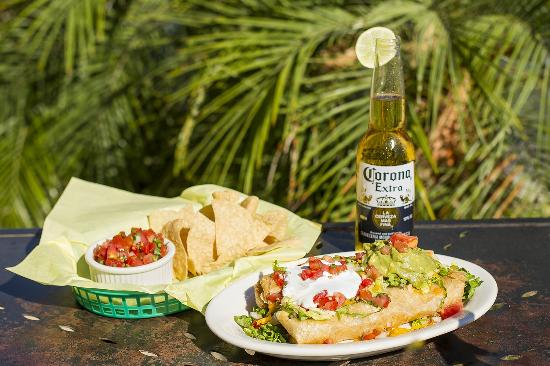 Rob Tucker left his native Ojai to attend college in Chico, where he obtained a liberal arts degree.  "I like kids," he says, "and I wanted to teach fifth or sixth grade." He adds that when he was younger he had viewed one of his own teachers as a role model.  "I thought teaching would be good."  
However, life took a different direction. "While I was at college," he explains,                              "I started in the restaurant business. I was a bouncer in the largest bar in Chico. I worked my way up to bar back, then to bartender, then to manager."
His next experiences in the food and beverage business included the Malibu Inn, Hudson's Grill, Hornblowers, and State & A in Santa Barbara. But in 1995, he received a call with a question that would again change his life. The call was from Jim Gresham, an employer from Tucker's days as a high school student. "I'd been a box boy for him at Double J Market in Meiners Oaks," Tucker recalls. And, Gresham's question: Did Tucker want to join him in opening a restaurant.   
Tucker's answer was "yes," and the duo set to work establishing Jim & Rob's Fresh Grill, then located at its original East Ojai Avenue location. Soon the Grill  was up and running, serving breakfast, lunch and dinner.
As a third generation Ojai native, whose grandfather graduated from Nordhoff High School in 1919, Tucker says something he liked best about owning the restaurant was the chance to commune with other Ojai residents and visitors.  "I like the interactions, dealing with people, creating an environment where people can enjoy themselves."
In 2007 the popularity of Jim & Rob's warranted an expansion, a larger place for people to enjoy themselves, and when the current West Ojai Avenue space became available, the move was made. While the original location had offered only outdoor seating, the new facility had plenty of seating inside and on an outdoor patio.
In both locations, the highlight of the Jim & Rob's experience has always been the healthy Mexican and American food, with Chefs Socorro and Oscar, who have worked for Tucker for 21 years and 18 years, respectively, creating anything a customer could desire, from vegan to local Watkins beef. 
"The menu evolved over time," Tucker says.  "We started with tacos, then people said, 'Why don't you do other things?' So, we did."
Referring to one end of the food spectrum, he says, "There are no animal products in the rice and beans.   If you had a rice and bean burrito, it would be vegan "We have a Garden Burrito with rice, black beans, sautéed veggies and a spinach tortilla.  We offer gluten-free tortillas."  Customers can also skip the tortilla and order a burrito in a bowl. Jim & Rob's burritos, vegan or otherwise, are so popular, they've won the Ojai Valley News "Favorite Burrito" award several times.
The restaurant has also won in the "Favorite Burger" category. "We have the Watkins Burger, a locally grass-fed beef," Tucker explains.  The restaurant has also won for "Best Lunch Place."
"There are many options," Tucker says. "We even have a tuna sandwich."
Tucker and Gresham have owned other restaurants, including in Mira Monte and Oak View, but the focus now is on the Ojai Avenue location.  One new addition, however, is the year-old adjoining Lisa's Cantina, a sports bar named for wife Lisa Tucker. The Cantina features Lisa's Margarita. "It's fresh-squeezed orange juice, lime juice, lemon juice, and simple syrup," Tucker explains. "No pre-made mixes."   
Although Tucker chose not to teach, his life includes many youth activities such as coaching soccer, basketball and Pony League baseball.   His restaurant's fundraisers revolve around children too, including assisting Topa Topa Elementary School and Nordhoff High School's football team.  "I also choose a cause to support each year and do a fundraiser. Two years ago, it was Help of Ojai. Last year was Food For Thought."
Regarding his plans for the future, Tucker says, "My plans are to just keep working."  However, he adds one more goal, winning the Ojai Valley News award for "Best Margarita."
(Jim & Rob's, 214 West Ojai Avenue, 805)-640-1301; Lisa's Cantina, 805-798-9233)