My Ideal Ojai Day
by Julie Hoffenberg
(Ojai, Ca)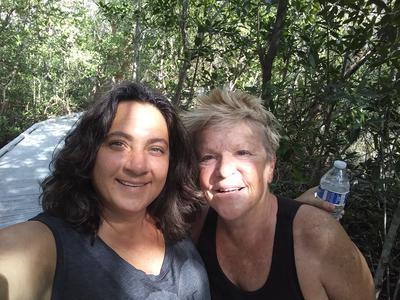 MY IDEAL OJAI DAY

By Julie Cara Hoffenberg
www.JulieCaraHoffenberg.com
julie@juliecarahoffenberg.com

The day I first landed in Ojai back in 2007, my whole body was covered in chills. A sense of exhilaration came over me as the backdrop of mountains met the white arches of downtown. I quit everything in Phoenix and moved here immediately. My heart sank when a series of circumstances led to me living in my car and had to leave Ojai for work in the Bay Area. Leaving Ojai in 2014 for about two years led to a newfound appreciation of this town. That may sound like a sad little story, but in truth my experience led to total bliss and an eventual return to this stunning place! I wrote a book about my adventures, which shares many beautiful things I experienced here, called Homeless to Happy in a Split Second.
Every Ojai day is ideal. How do I share, in one small article, all of the special places, people and events I cherish? I suppose I'll begin with the magical Ojai mornings. We live near the Ojai Bike Trail, so my wife Carol and I like to start our day with fresh air. She just had her new electric bike book together at Bicyles of Ojai. While she rides, I tend to walk or jog the trail as I take in the beautiful views of our Topa Topa Mountains, often having a chat with Chief Peak. I marvel at the miracles of nature all around us, smiling with gratitude. We also live near the Ventura River Trail, which is another place Carol and I love to walk. This is a lovely place to take in the scents of fresh sage (picked fresh for a sweat lodge I held at one of my retreats long ago), or watch the Matilija Poppies blowing in the breeze. If you are a visitor to Ojai, do not miss a walk in nature! You will feel the beautiful energy of the Ojai Valley. You will know why so many people get a sense of "rightness" when they decide to move here.
Speaking of visitors, my cousin Hilary and her two friends visited Ojai for the first time. I had to cram everything into 24 hours! We began walking through the arcade downtown. They loved the sweet charm of everything. Because they love to shop, our first stop was Poppie's Art and Gifts on Matilija Street. The owner, Peggie, is a dear friend of mine and half the art in there was made by other friends. It's so wonderful to see local artisan work! We all bought fantastic gifts. Hilary found some gorgeous bowls made by Sespe Pottery. Her friend picked up one of my books, which are also stocked at Poppie's (wink wink)! I picked out some oil and vinegar to take home to family by Ojai Olive Oil, as well as some beautiful shabby chic fabric bowls sewn by my friend, Susan Bruce.
On the way out of Poppie's, we passed by Revel, the kombucha shop. Everyone loves kombucha (except Hilary)! But nonetheless, we grabbed a flight of tasters and Hilary actually liked one of them! Maybe it was the freshness, or the fact that they're brewed with honey and green tea. This will always be part of an ideal visitor day in Ojai!
After an afternoon of shopping downtown, we had dinner at Bocalli's Pizza and Pasta out on the East End. Not only did we all have fantastic food such as the vegetarian lasagna, but we were able to gaze up at the moon from our outdoor table with heaters to keep warm! This valley is too gorgeous to miss, even on brisk nights. Eat outside, feel the moon, and be merry with those you love!
The next morning we had a massage at Bamboo Creek Spa. The one hour combination reflexology was heavenly. Next we ventured out to our Ojai Farmer's Market. My cousin had been hearing about this market since 2007 when I moved here! She lives in Chicago and doesn't get the same produce varieties there. Because we have such a beautiful climate, we are spoiled weekly with so many fresh options! Tutti Fruti is my absolute favorite on earth for heirloom tomatoes! We bought a bunch and brought them with us to Topa Mountain Winery for a picnic and wine tasting. Hilary was also able to taste new things like passion fruit and persimmons. More reasons why I love where we live – fresh year round produce and shopping outdoors instead of under fluorescent lights!
We didn't want my cousin and her friends to leave. We wanted them to stay forever and soak up more of this incredible valley. Next time perhaps we will drive out to Ecotopia for a soak in the hot springs, meditate with my friends Joyce and Gerry who own Frameworks of Ojai, or attend one of the incredible musical events at Libbey Bowl! It's not possible to do everything in one day, but it is possible to dream into many more days. Grab some loved ones, come to Ojai, and start feeling into the essence of this place. Its history can be felt not only in the businesses and people that make up the town, but also in the quiet moments. Can you feel the ancient sacred Chumash energy? Can you feel the condors and eagles flying together? Can you feel the magnet behind the pull for people of progressive and spiritual backgrounds? There's something here beyond words. It's why so many of us are called here. It comes to us in waves of chills, soft whispers on the sage scented breezes, and orange blossom afternoons. That's why I'm here. And why I continue to be so very grateful to share life and love with my wife in this sacred Ojai valley.