Ross' Blog: Ojai Insights
Thank you for visiting my blog. Please feel free to leave comments, feedback, words of wisdom and any of your insights.
We can all learn from each other. Your ideas are welcome.
All I ask is that you contribute something you believe will be helpful to others.
Thank you for your participation.
Jan 11, 2020
My Ideal Ojai Day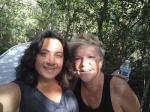 MY IDEAL OJAI DAY By Julie Cara Hoffenberg www.JulieCaraHoffenberg.com julie@juliecarahoffenberg.com The day I first landed in Ojai back in 2007, my