My Ideal Ojai Day. With Megg Scotte-Kelly and Daena Santoyo
by Megg
(Ojai)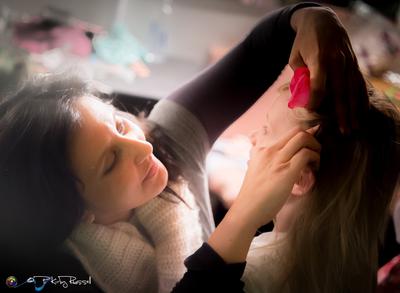 My ideal day in Ojai might not be the standard. My favorite days are the ones where I rarely have to leave Ojai Youth Entertainers Studio (OYES), the theater where I work and practically live.

MORNING
Because my day ends closer to sunrise than sunset, my "morning" starts a little later than normal. Thankfully, I am well versed in late morning breakfasts in Ojai.
If I'm running late, I can grab coffee at Java & Joe. I enjoy their vanilla rose latte so much that it inspired one of my cocktail recipes. If I have more time I'll order take out from Bonnie Lus. Their staff is made up of some of the sweetest people I have ever met. You can a well-made diner breakfast until 2:30pm.
On the rare days when I can actually sit and enjoy myself at a meeting over coffee, NoSo Vita is the place to go. Located on Signal Street, they have large patio with outdoor couches and a beautiful view of the Topa Topas, cold brew coffee on draft, and a social atmosphere which almost always results in a connection with someone I would not have otherwise met. I think that's my favorite way to start the day; curled up in the sun, slowly drinking my coffee while the team and I dream up possibilities for the theater.
.
AFTERNOON:
OYES tends to monopolize my time in the afternoons, and I wouldn't have it any other way. I cannot describe to you the energy and enthusiasm that accompanies the kids as they enter the theater and get ready for class. Whether they are rehearsing for one of our shows, taking an improv class from John Mederios, joining Julija Zonic for chorus, training with Kytriena Payseno or playing with Rachel Hunt in her tots program, the passion they bring with them is palpable. I don't always get to be a part of the classes,
but no matter where I am in the theater I can always hear them. I am so grateful that a town as small as Ojai still has room for places like our little theater, where children and adults have the freedom to explore their creativity and feel totally accepted. As Bella Stogo, one of our students, puts it, "I would have never grown up like this if it wasn't for OYES."

NIGHT:
My favorite nights are show nights. They're also the most hectic. The performers rush around getting into costume and doing their makeup, the tech crew is engaged in some last minute fix that they always pull together just in time because they're the hidden rock stars of the theater, the parents and volunteers work to get the final touches done so that we can open the lobby, and Daena, my co-artistic director, and I move through it all, doing whatever needs to be done. We apply facepaint, fix a hem, fix that wig one last time, dash to Westridge to pick last minute supplies, and then, that slight moment of almost calm, when we open the doors and the audience enters at last. While they settle into their seats. As the call for places comes through my headset, I know it's time for the show to begin. There really isn't anything better than life in the theater.
Life imitates art, and the ephemeral nature of theater is the perfect example of life in Ojai. We now say goodbye to our home in the heart of downtown Ojai, but we look forward to exploring the surroundings at our new home at OVCC. Goodbye 316 E. Matilija St, hello 907 El Centro St!