My perfect day in Ojai
by Therese
(Ojai)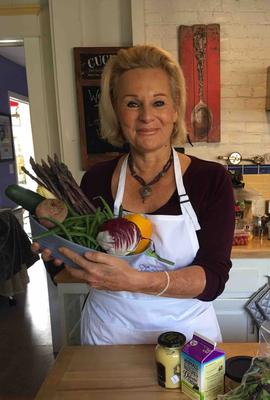 Ojai is the perfect small town without the small mindedness that often accompanies fishbowl communities. You have old-time ranchers, the BOHO chic, actors, authors, artists, spiritual aspirants all sprinkled with a healthy dose of international visitors and residents. It turns out, this is a beautiful recipe for a locale that offers diversity, culture and acceptance.
So, what is my idea of a perfect Ojai day?
Hiking one of the trails winding through the gorgeous mountainside, would be high on my list. You quickly discover how fit and active Ojaians are by going on any one of the myriad trails. Single hikers, young and old, families with their smiling dogs will wave at you as they pass and if you time it right, you might witness the majesty of Ojai's Pink Moment.
A visit to Hip Vegan - a local plant-based restaurant with scrumptious food - would definitely be on my list of places to go. Frankly, most of the restaurants in town have healthy food, using locally sourced produce, making it hard to go wrong. For dinner, nothing beats the joy of going to our local Farmer's Market for organic produce and then wrapping the ingredients into a backyard, candlelit feast. Add to that a fire in the fire pit to continue the story-telling under a vast canvass of brilliantly shining stars. And yes, we see more stars in Ojai by being a "dark-sky designated community", a project begun by the Ojai Valley Green Coalition.
Speaking of stars, when meteor showers hit in summer, it's a real treat to head up Maricopa Highway with friends, find a turnout, bring out lawn chairs and picnic fare, and watch the magic begin. Finding a hot spring to watch from is equally alluring.
For those of us who love to cook, signing up for a cooking class (as I did recently) over at the Kathy Hartley's Lavender Inn, is a fantastic way to learn culinary skills, meet visitors and get to try some locally sourced produce. The amazing chefs teaching classes are often world renown.