80 films to be screened;
Johnny Jensen, Ed Asner and Cloris Leachman to be honored.
By Sarah Howery Hart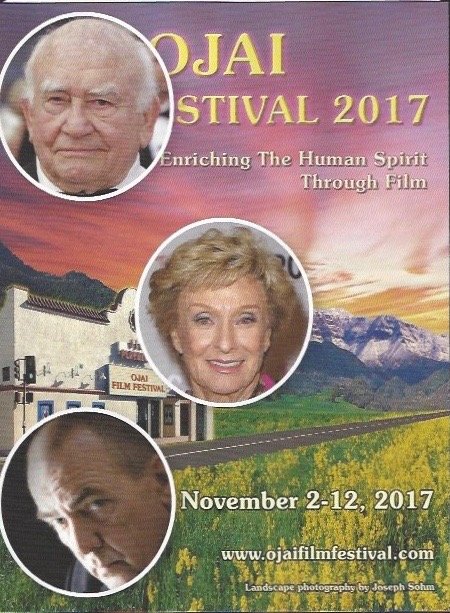 From November 2 through 12, the Ojai Film Festival celebrates its eighteenth year by presenting over 80 films; recognizing three Hollywood legends; live reading the Screenwriter's Competition winner; Focus Earth environmental films, and other events.
The Ojai Film Festival (OFF) was founded by Steve Grumette, movie industry director and film editor, Cannes Film Festival winner, who formulated the idea after judging a Moab, Utah festival.  He provides two initial reasons for establishing OFF. "One goal was to provide filmmakers worldwide--some just beginning their careers--with a supportive audience of viewers, which might also include some people from Hollywood."   His second goal, "To serve people in Ojai, Ventura County and beyond with an array of films from around the world that might otherwise be totally inaccessible."
Now, nearly 20 years later, with these goals still being fulfilled, additionally many OFF films have been Academy Awards nominees and winners, including "Taxi to the Dark Side" (2007); "A Note of Triumph: The Golden Age of Norman Corwin" (2005); and "Mighty Times: The Children's March" (2004)
The 2017 event begins at Libbey Bowl with a complementary screening of Mad Hot Ballroom, in which New York City elementary students learn ballroom dancing, then compete. All films for the next 10 days, screened at the Ojai Art Center (OAC) and Chaparral Auditorium, fall into several categories:  Narrative Features, Narrative Shorts, Documentary Features, Documentary Shorts, Animation, and Gold Coast Screenings, the special category for Ventura County films; and Focus Earth, environmentally-focused films.
Additional special events include the Student Filmmakers Program on November 4.   Also on November 4,  producer Stuart Crowner will lead a discussion with the 2017 OFF Lifetime Achievement Honoree for Cinematography,  Johnny E. Jensen, director of photography for nearly 50 years.  His cinematography credits include "Rambling Rose," "Grumpy Old Men," "Rosewood" and others, and Emmy nominations for television movies "Into The Badlands" and "An American Story."  Television credits also include L.A. Dragnet and Heartland.
From 4-7 p.m., publisher Bret Bradigan leads a discussion with OFF Lifetime Achievement Honoree, film and TV personality Ed Asner, whose 2017 movie, "In Vino" with Sean Young will be screened.  Asner's movie appearances include "They Call Me Mister Tibbs!," "JFK,"  and "Elf," and he is well-known for the TV role, journalist Lou Grant on "The Mary Tyler Moore Show. "
On November 5 from 2– 4 p.m.  a Live Read of "My Husband, the Dick," winning screenplay from the OFF Screenplay Competition, features Ojai area actors, led by Director Larry Swerdlove.
Immediately following, the Ojai Valley Land Conservancy presents environmental films in the OAC Theater.  Another special screening, the Gold Coast Screenings featuring films created in and around Ventura County, runs from 10 a.m. until 9:30 p.m., and The Young Filmmakers Competition Screening is on Friday, November 10 from 10 a.m. to 1 p.m.    At 7 p.m. that evening, "Beautifully Broken" with Ojai actress Emily Hahn debuts in the OAC Gallery.
On Saturday, November 11, 4-7 p.m., Women in Film present Cloris Leachman in her Legacy Film bio. The Leachman biopic reviews the Academy and Emmy award-winning star's film, television and stage career.  Leachman was nominated for Emmy awards for her role as Phyllis Lindstrom in the Mary Tyler Moore TV program, winning twice for Best Supporting Actress. She won a Golden Globe for Phyllis. In 200, she won two Emmys for Malcolm in the Middle.    A reception follows.
Another complementary film, "The Triplets of Belleville," screens on November 8, 7 p.m.  in the plaza behind the Ojai Arcade.  Guests may bring chairs and blankets.
            Screening and special event schedules and tickets are available on the Ojai Film Festival website,  http://ojaifilmfestival.com.
(Ojai Film Festival:  805-640-1947; http://ojaifilmfestival.com; /info@ojaifilmfestival.com)