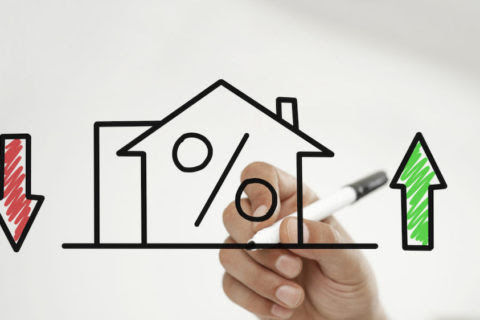 One of the few silver linings for real estate in the middle of this devastating coronavirus pandemic has been record-low mortgage interest rates. And housing experts predict those ultra-low rates will likely fall even further—venturing into the unprecedented 2% range.
That could give the flagging housing market—deeply hampered by state and local lockdowns, uncertainty about COVID-19, and a sputtering economy—a much needed boost. Lower rates equate to lower monthly housing mortgage payments, meaning many buyers will suddenly be able to afford homes with higher price tags.
"We expect mortgage rates to stay low and possibly slip lower," says realtor.com Chief Economist Danielle Hale. "We'll flirt with the 3% threshold for a while before we go below it."
Although some lenders are offering rates in the high 2% range, rates averaged 3.28% for 30-year fixed-rate loans for the week ending May 14, according to the most recent Freddie Mac data. That's more than a full percentage point lower than the 4.61% rate for the week ending May 17 last year. That difference could shave hundreds of dollars off some monthly mortgage payments and tens of thousands of dollars off the life of a 30-year loan.
Get Pre-ApprovedFind a lender who can offer competitive mortgage rates and help you with pre-approval.
Meanwhile, average, daily rates dropped to a new low of 3.09% on May 15, according to Mortgage News Daily.
Hale anticipates that rates will fall to 2.9% by the end of the year. That's similar to Fannie Mae's May forecast. The housing giant expects rates to remain in the low 3% range for the rest of the year—and then fall to 2.9% for all of 2021.
"Of course, no one can be sure what to expect, because it really depends on how the battle against coronavirus unfolds," Matthew Graham, chief operating officer of Mortgage News Daily, said in an email. "In a situation where people are able to return to work sooner than expected and in greater numbers, rates might not fall much lower. On the other hand, the more negative economic outcomes would suggest 2.5% by the end of the year."
Borrowers can already get a mortgage in the 2% range
Today's buyers can already score rates in the 2% range—that is, if they know where to look.
Borrowers seeking a 15-year fixed-rate loan or an adjustable-rate mortgage, where rates fluctuate over the life of the loan, can already enjoy rates in the 2% range. But their monthly payments are likely to be higher as the loan is condensed into a shorter time period.
Those seeking standard, 30-year fixed-rate mortgages can also get in on the action.
Chase Home Lending was offering buyers rates in the high 2% for purchases in some parts of the country as of Wednesday afternoon.
On May 12, national lender United Wholesale Mortgage unveiled a new loan program where folks purchasing a house or homeowners refinancing their loans are guaranteed rates of between 2.5% and 2.99%. Folks with higher credit scores and stronger credit profiles are more likely to qualify for the lower rates.
About 10,000 people inquired about the low rates on Thursday, says Mat Ishbia, CEO of UWM. The national lender bills itself as the largest purchase mortgage lender and the second-largest lender nationally, making $108 billion in mortgages last year. Unlike at brick-and-mortar banks, its loans are available only through mortgage brokers.
To be eligible, borrowers must qualify for a conventional loan backed by Fannie Mae or Freddie Mac for a primary or vacation home. Investment homes are not included in the program.
"It's a great way to get the economy and the home purchases started," says Ishbia. "With the pandemic across America ... there's a lot of pent-up demand."