Ojai's Double Celebration: Fourth of July & Ojai's 100 Years




By Sarah Howery Hart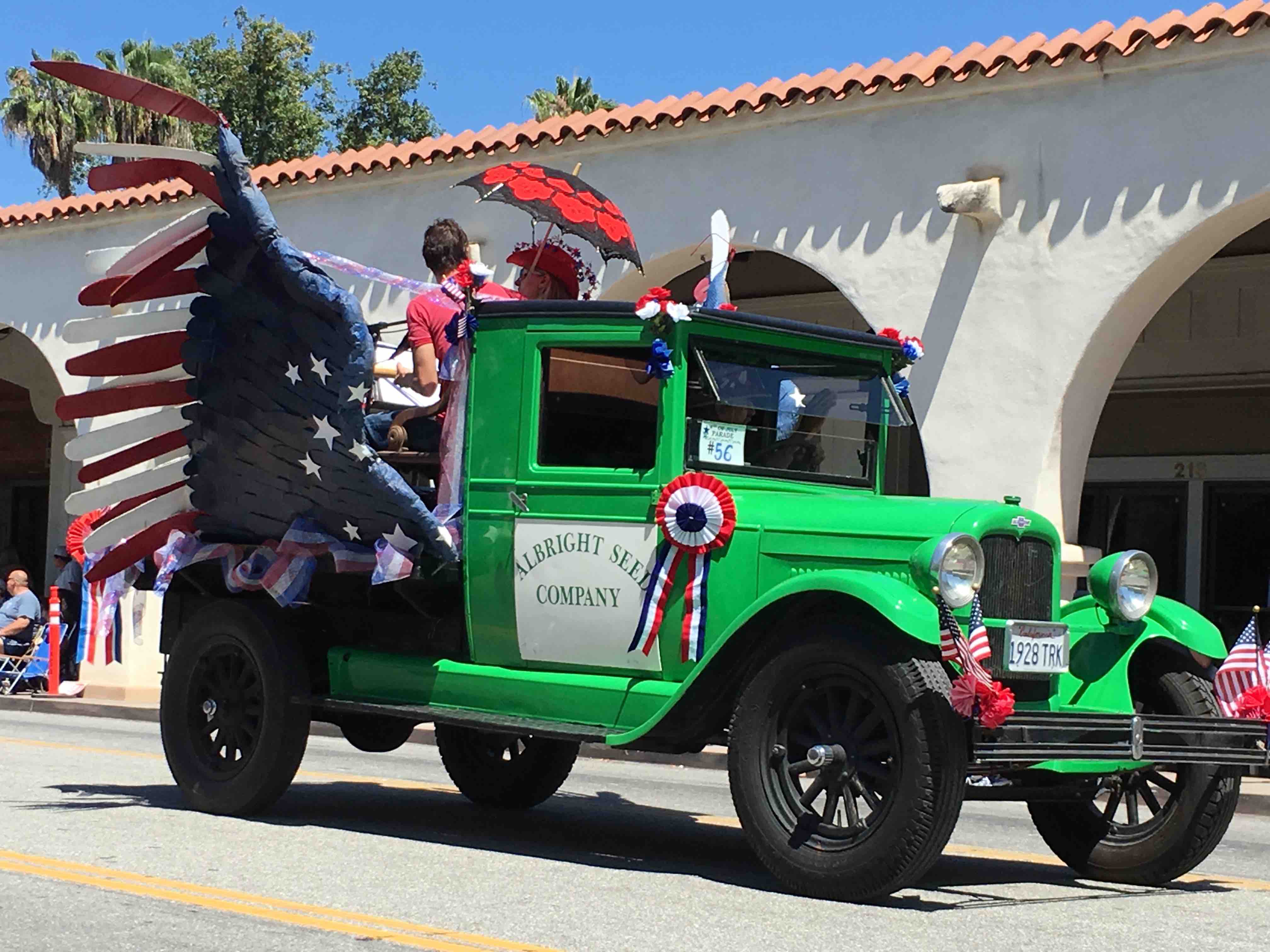 Every Fourth of July celebration in Ojai is special, but this year the celebration also commemorates Ojai's Centennial. Yes, it's been 00 years since the city of Nordhoff became the city of Ojai.
Kristi McGhee, president of the Ojai Independence Day Committee, says a variety of festivities are planned, beginning with the annual pre-Fourth of July concert on July 3, in Libbey Park at 6:30 p.m. Two musical groups will perform, Darrienne Gross with Kyle Caldwell and Friends, and 805 Brass. There is also a new pre-concert event, a contest for the best homemade apple pie. The idea originated with McGhee.  "I wanted something different," she explains, "and I'd already had a few people tell me they're the best pie-makers.  You don't have to register, just come on down with your pie."  She quips that being a judge is a coveted job for the Fourth of July committee members.  The winner will receive a family pass to the fireworks show the next night.
Gift certificates and merchandise from local business will also be raffled off. Festivities on July 4 include the annual Ojai Valley Lions Club pancake breakfast at Chaparral Auditorium, beginning at 6 a.m., at a cost of $6 per person. The Rotary Club-hosted Youth Freedom Run begins at Libbey Park at 8:45 a.m. and there will be food booths and children's rides.  
The Fourth of July Parade starts off at 10 a.m., traveling a route from Country Club Drive to Park Road. This year's theme, "Celebrating the Libbey Legacy," honors Easterner Edward Drummond Libbey of Libbey Glass fame, who retired in what was then the town of Nordhoff.  Libbey was influential in the construction of much of Ojai's downtown area, including the Arcade, the Post Office Tower, and St. Thomas Aquinas Church (now Ojai Valley Museum), the Ojai Library area, and the park, eventually named for him, Libbey Park.  When construction was completed on those and other properties 100 years ago in 1917, the town's name was changed to Ojai.
Now, in 2017, in honor Ojai turning 100 years old, the parade's Grand Marshal will be another centenarian, Carl Greenfield, selected in part for his work in the Ojai community.  "We base the selection of our Grand Marshal on service," McGhee explains, "how they have served the Ojai Valley. Carl has been dedicated to the Ojai Valley Lions Club for 60 years, and that's what the Lions Club does, they are service-based.  We wanted to let him know we appreciate what he's done for the Ojai Valley." 
However, Greenfield won't be the parade's only centenarian. McGhee has announced that for the first time, Gables of Ojai senior living has entered the event, with a vintage vehicle carrying members of one the Gables' bands. 
 Other entries include the Vietnam Veterans of Ventura County, the Ventura County Model A Club, Ventura County Sheriff's Posse, and the SoCal Corvairs.
Gates for the fireworks that night open at 5:30 p.m. at Nordhoff High School, with the musical group Unusual Suspects performing. The Kid Zone will be open for children, featuring a bungee run and bouncehouse.  Food trucks will be on hand. 
Commemorative firework shells honoring loved ones are available for purchase, and prior to the fireworks show, names of those honored will be read. 
Tickets, including discounted family passes, may be purchased on-line or at the gate, and Ojai Fourth of July T-shirts and tote bags with the artwork of Colleen MacDougal may also be purchased at the concert on July 3, or on-line.  
Proceeds from the event help fund the annual celebration, which is made possible through sales and donations.  
(For more information on Ojai's Fourth of July events visit 4thofJulyinOjai.com)