The History of Ojai
Although there are no known references in the history of Ojai, it is commonly claimed that the mountains visible from the city were used in, but then cut, from the 1937 movie as the mystical sanctuary of James Hilton's novel Lost Horizon.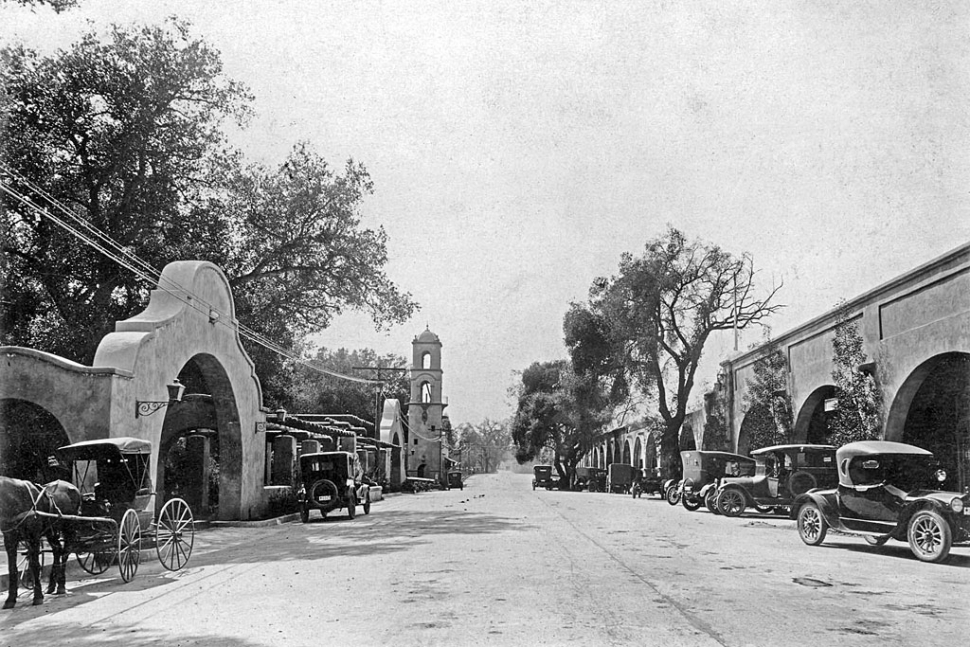 The valley was once inhabited by the Chumash Indians, and it is from their word "Awhai" meaning "moon" that the name Ojai is derived.  One of the oldest towns in Ventura County, Ojai was settled in the 1800s and incorporated as a city in 1921. Tucked away in the Ojai Valley, the town is surrounded by peaks that give off a glow in the evening light known as the pink moment. 

One of the prominent early settlers was Edward D. Libbey, a wealthy glass manufacturer who is responsible for the layout of the town.  It was Robert Winfield who built the stately Arcade that today houses shops and eateries, but it was Libbey's money and his vision that the town have a distinctive center faithful to its Spanish heritage.  Thus Libbey teamed with architect Richard Requa from San Diego and together they created what today draws the eye and captures the heart.  
The History of Ojai starts anew
In 1917 a fire took much of the town and offered Libbey a clean slate, so to speak.  The western-style town was left in ashes; the Spanish Revival architecture that unites the area arose from those ashes to become stately landmarks and historic sites.  
Libbey constructed a home for himself on Foothill Road as his vision for the town was taking hold.  
The post office tower and the lovely pergola that covers the sidewalk in front of Libbey Park are fruits from the Libbey-Requa team.  
They also built the the Ojai Valley Inn (designed by architect Wallace Neff), and the El Roblar Hotel (the building now houses the Oaks Spa) an architectural gem that was restored to its former glory by the Cluff family with the help of historically minded architect and local citizen, the late David Bury.
Libbey also provided the land for the site that would become the Ojai Library. The Libbey-Requa team also built the Catholic Church, which is a National registered landmark. 
For more information about Ojai History please visit the Ojai Valley Museum website.