Is Remote Work Your New Normal? Upgrade Your Home Office With These Affordable Ideas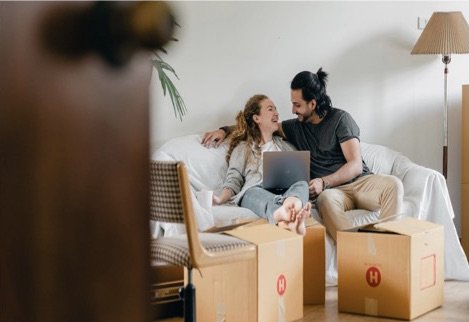 If your workspace transitioned from an office to your home in 2020, you're in excellent company. Research shows that remote work increased to 71% of the American workforce in 2020. If a home office is your new routine, now is the time to invest in upgrades to make the space as comfortable as possible.
To find funds, check with your employer to see if the company provides any extra money for your home office needs. If you own your home, you could consider a cash-out refinance on your mortgage loan — see the latest cash out refi rates here. This transaction swaps out your current loan for a new one at a higher amount than your current payoff balance. You keep the difference in cash to make your home office as lavish as you'd like it to be!
If no extra funds are available for your home office makeover, you can still make changes without maxing out your credit cards. Here are ideas to try from Ross Falvo.
Paint the Room
Since you're going to spend a lot of time in this space, make it more comfortable by painting the room in your favorite color that always boosts your mood. Perhaps go for a bright color like yellow or orange, or use a calming seafoam green or sky blue to keep you relaxed on hectic days.
Invest in a Comfortable Chair
If you are still using a kitchen chair in your home office, it's time to invest in an actual office chair designed for comfort. You will be amazed at how productive you are when your body is comfortable throughout your workday. Look for an ergonomic model that allows you to adjust the chair to support your body perfectly. You can find various trendy colors and styles to choose from.
Purchase a Desk
While you're shopping for your new office chair, cruise through all the desk options as well. Whether you choose an executive desk or go for the minimalist look, the choice is yours. At a minimum, select one with a drop-down keyboard tray to keep your wrists and hands happy and healthy as you work.
Select a Storage Option
Remember that old army-green filing cabinet you absolutely hated by your desk when you worked in the office? You can forget about it now and select an office storage option in a color and style you love. You decide if you need a bookshelf, cabinet, or wall unit to store your gear and completed work. While you're at it, consider a desktop organizer in your favorite color.
Get a Desk Lamp
Poor lighting at your desk can lead to an end-of-day headache due to eye strain or make you feel sluggish and cause you to be unproductive. To fix the problem, pick up an adjustable office desk lamp that uses LED bulbs so you can decide if you prefer a warm white or daylight glow over your workspace.
Add a Few Extras for Ambiance
With the basics needs out of the way, it's time to purchase those extras that keep you smiling throughout the day. If you need inspiration, consider these popular options:
●      Plants
●      Artwork
●      Aromatherapy diffuser
●      Sound machine
Upgrading your home office with one of these affordable ideas gives you a comfortable place to do your job. It creates an environment for you to accomplish your best work.