Ross' Blog: Ojai Insights
Thank you for visiting my blog. Please feel free to leave comments, feedback, words of wisdom and any of your insights.
We can all learn from each other. Your ideas are welcome.
All I ask is that you contribute something you believe will be helpful to others.
Thank you for your participation.
Oct 03, 2017
Coffee shop crawling........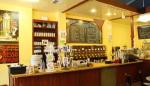 I love the coffee shops in Ojai!! They are great places to people watch AND drink delicious coffee and tea. Farmer & the Cook where everything is organic.